I was so honored to be asked to style four spaces in my old historic home for the December issue of San Diego Magazine. We were paired with the lovely photography duo of Auda & Coudayre Photography to produce a true version of home holiday decor. While we are used to producing over the top wedding table tops it was refreshing to focus on real life home styling. (A current obsession for both Cara and I in our house holds)
I'll leave the magazine article to advise on all of our holiday pointers (go get it!), here I share a few.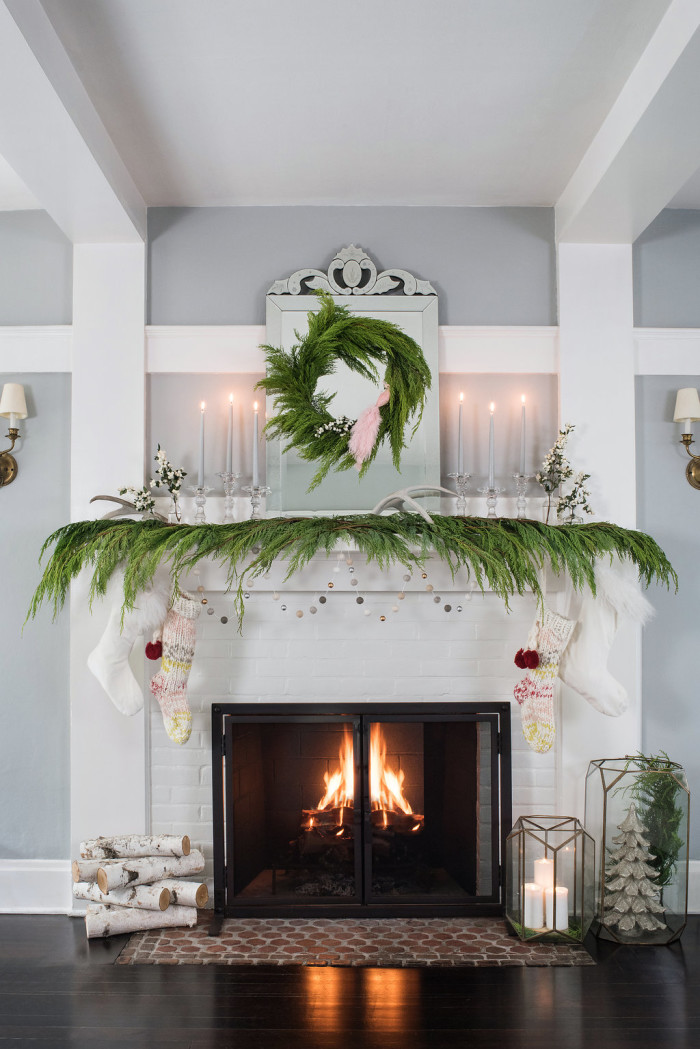 MANTLE
I love an old fashioned mantle with green garland, candlelight, and a wreath. I've added some layers to make this mantle an updated version with antlers and felt balls. A peekaboo of pink in the garland and stockings is a fun unexpected touch to typical xmas palette.
Mantle Tips
*layering branches of greenery on a mantle can look as lush as a garland for half the price, I also love the feathery look of cedar
*pick a single branchy flower type to be repeated throughout the decor, I've chosen snowberry branches. Sticking with one type keeps the look clean, and does not require fancy flower arranging skills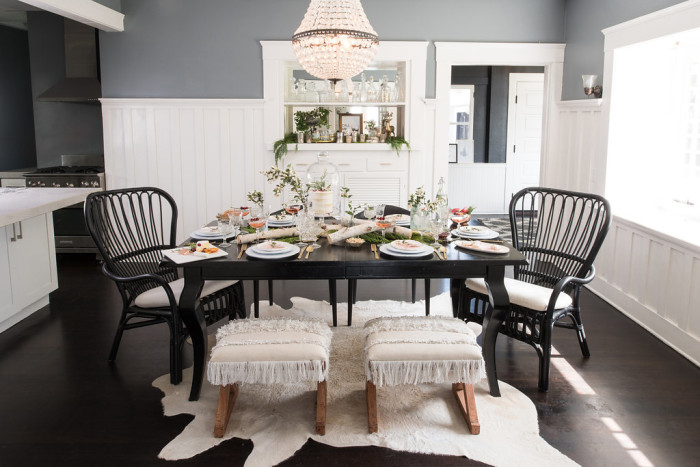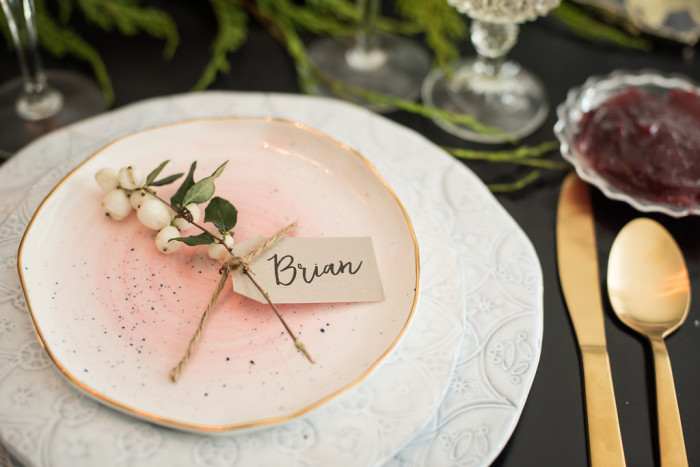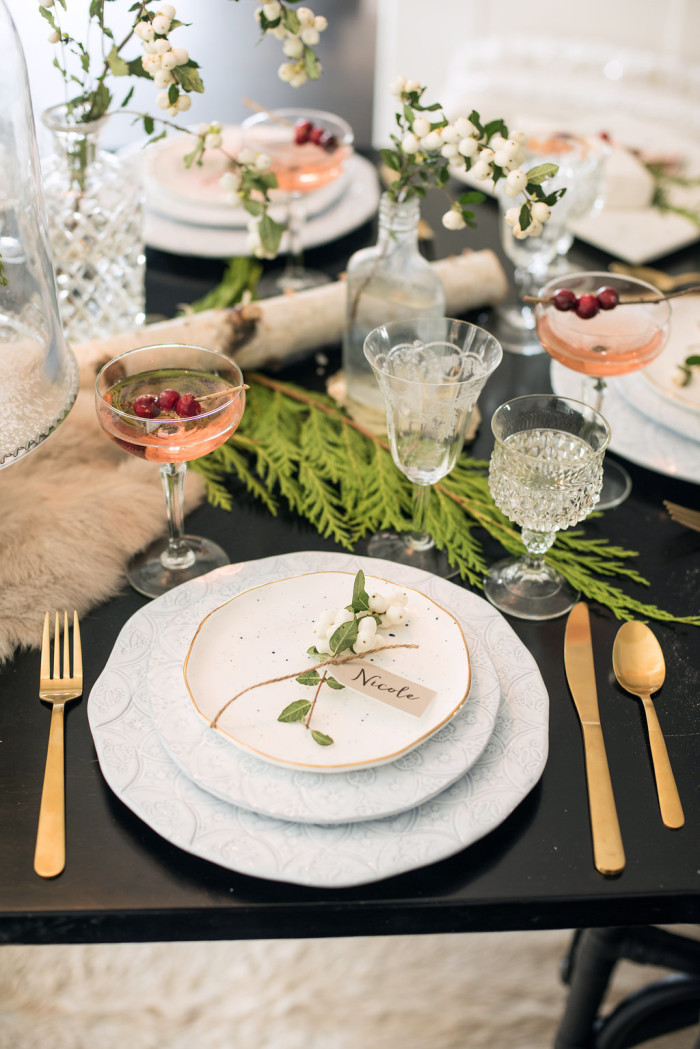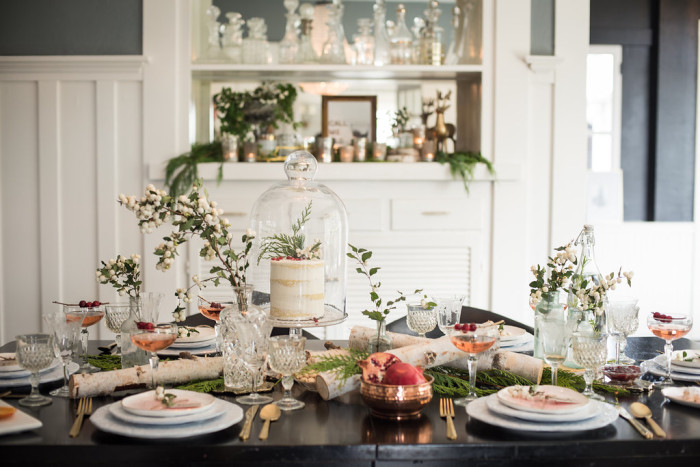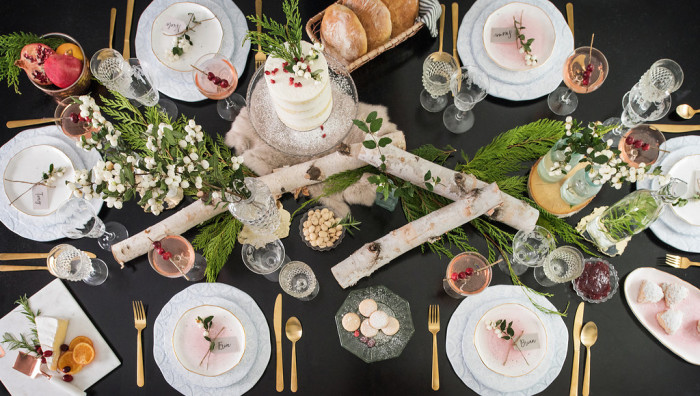 TABLETOP
Greenery, birch branches and vintage vessels holding snowberries continue the theme. A touch of blush in the dessert plates adds a special layer. A cake under a pretty cloche becomes a focal point of the table in lieu of a massive flower arrangement.
Tabletop Tips
*pick your home made moments, if you are a great cook but not a baker outsource that piece of the hosting puzzle. I don't bake so I entrust my local baker to make a beautiful cake.
*Order "naked" or "messy buttercream" and you can add some of your own styling to match your table design. I've added greenery and pomegranate seeds.
*don't be afraid to mix and match whats around your house to set the table. I like a mismatched set of glassware to make a table feel more like home than a table set a store.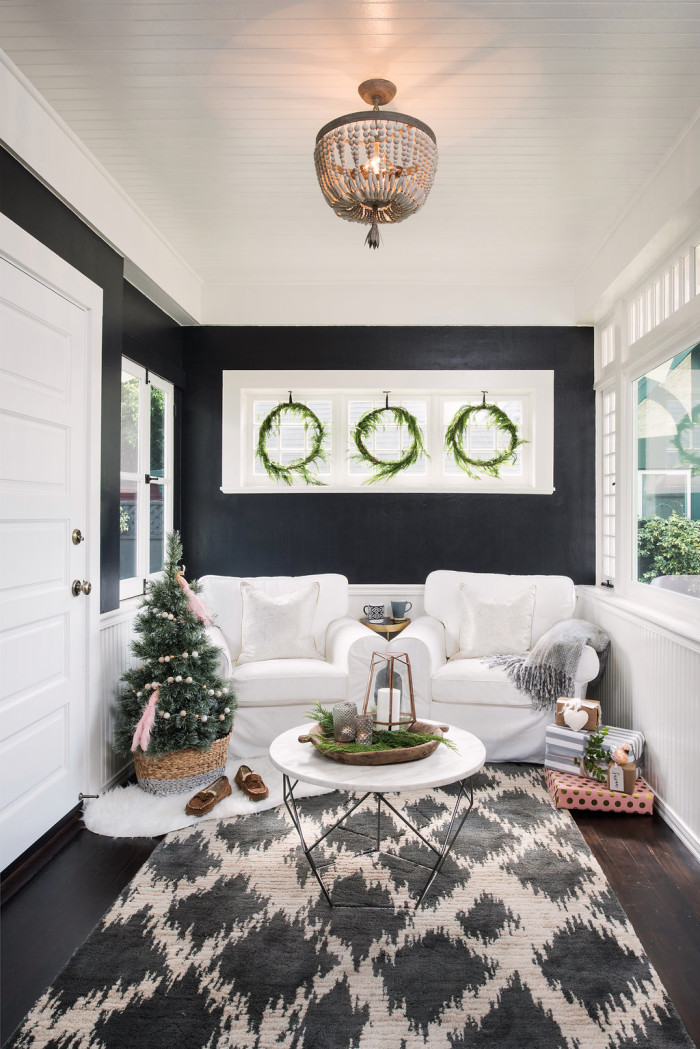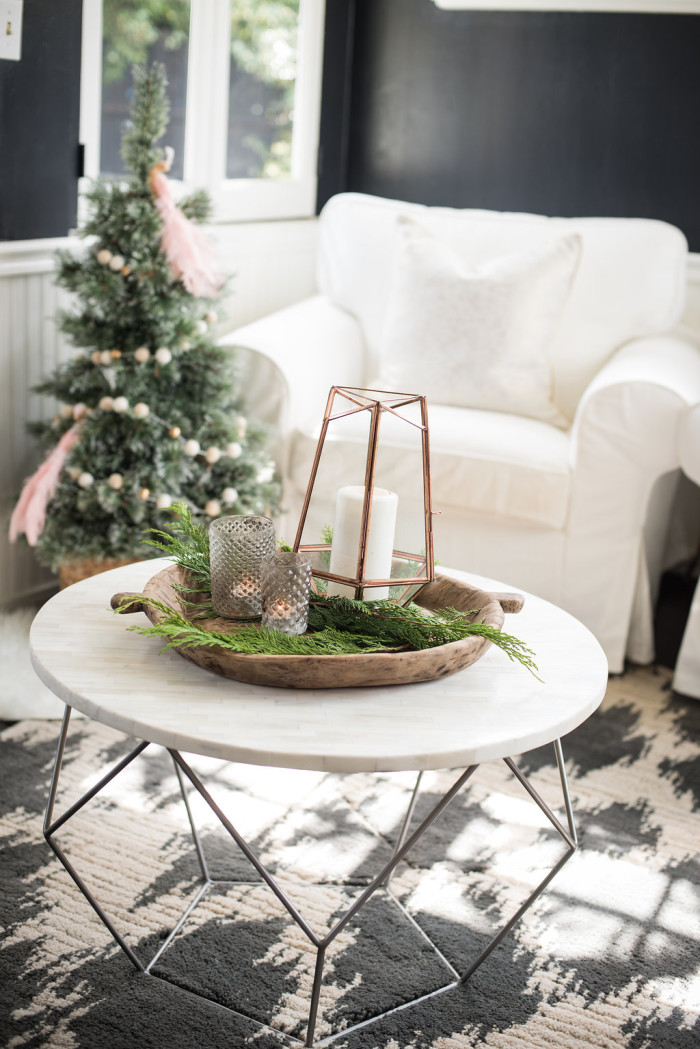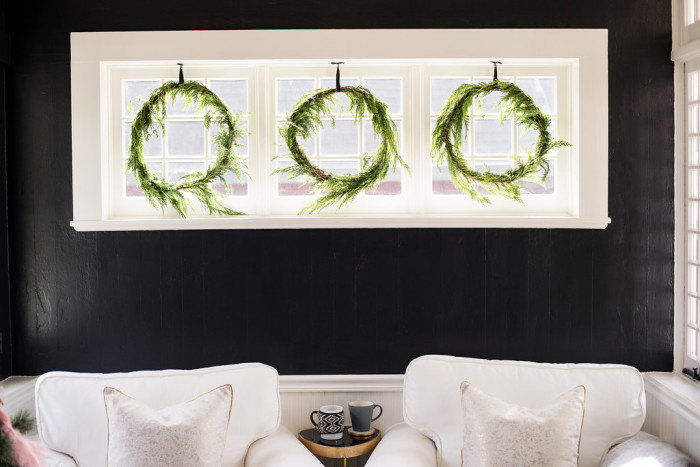 COFFEE & COCKTAILS ROOM
Yes, thats what we named it. Don't forget the other little nooks and crannies in your house. If you spend time in a room, add a dash of decor to make the room merry.
C&C Room Tips
* minimalist wreaths are in right now, try your own DIY version, repeated wreaths add major impact
*I love sprinkling small xmas trees throughout the house, they don't need a lot of ornaments to bring some cheer to a lonely corner
*OK, am I OCD? I love picking wrapping paper that matches my design scheme too.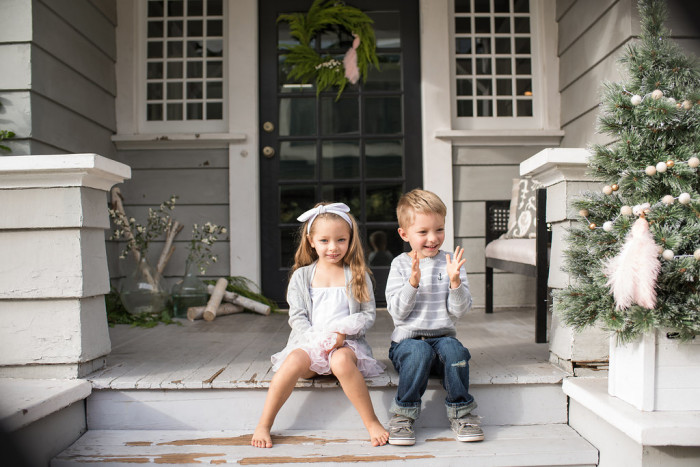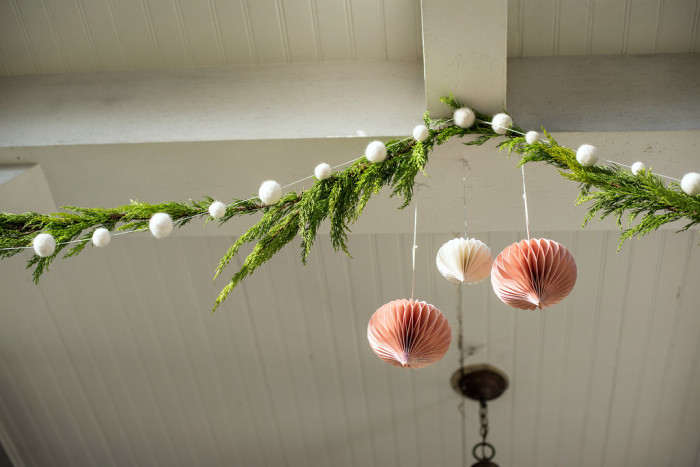 FRONT PORCH
The front porch is a perfect place to show a peekaboo of what merriment is to come inside. A couple of kiddos playing out front doesn't hurt the cute factor. 😉
Front Porch Tips
*every front door wants a wreath! Like the cake, you can order simple base and add some decorative elements to match your unique styling. Here- a pink feathery bird & snowberries to repeat the decor theme
*battery powered lights are great for small outdoor trees = no extension cord needed
*wood logs and branches add easily styled impact
VENDOR LOVE
Photography: Auda & Coudayre Photography
Design: Palm & Prep Design
Magazine Publication: San Diego Magazine
Paper Goods: Brightly Designed
Cake: Cake